Contact Custom Tiles, LLC
… for picture tile pricing and planning. For general information, see our FAQs. Use email to track and record important information or use our Request for Quotation form.
Mitch Bernard 434/660/7170   Artwork/Clerical: Debbie Bernard    Fax 434-369-7179
Shipping/Receiving: Barrett Johnson     Bookkeeping: Joy Bernard
Custom Tiles, LLC      1701 Avondale Drive      Altavista, VA 24517-1009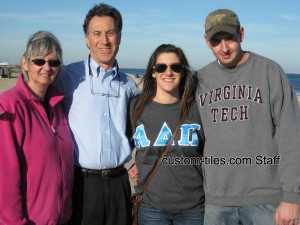 Picture tile for wall murals and floor medallions.
Producing picture tile for indoor and outdoor use – kitchen backsplash tiles and large public art displays. Fade resistant and weather resistant picture tile for swimming pools. Frost resistant for any climate. Resistant to graffiti removing chemicals.